Viennese Music in 3/4-time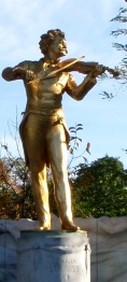 At the mention of Vienna, people immediately think of Johann Strauß II and the Viennese Waltz.
Over the course of the centuries, many musicians were drawn to Vienna, which was above all due to the fact that most emperors of the House of Habsburg were highly musical.
The good conditions in Vienna regarding the musical area attracted many famous composers: Antonio Vivaldi, Antonio Salieri, Joseph Haydn, Wolfgang Amadeus Mozart, Ludwig van Beethoven, Johannes Brahms, Franz Schubert, Gustav Mahler, Hugo Wolf, Arnold Schönberg - too many to mention them all here.
Today, the Vienna State Opera is, next to the Milan's La Scala and New York's Metropolitan Opera, the best opera house of the world, a fact to which contributed great artists such as Gustav Mahler or Herbert von Karajan who worked here.

The New Year's concert in the famous Goldene Saal (Golden Hall) of the Wiener Musikverein is broadcast worldwide every year and has an estimated two billion listeners!
Of course I can include museums in the tour (entrance fees not included), e.g.:
Domgasse 5 is the only one of Mozart's apartments in Vienna that still exists today. The composer lived in Mozarthaus Vienna from 1784 to 1787 in grand style, with four large rooms, two small ones and a kitchen. The life and works of this musical genius are presented in and around this apartment on four exhibition levels.
The House of Music is an interactive discovery museum located in the heart of Vienna's first district nestled between St. Stephen's Cathedral and the Vienna State Opera. A host of interactive installations playfully communicate openness to new things, understanding and enthusiasm in approaching music.