Churches in Vienna, Tours and sight seeings
Vienna has an impressive variety of churches from all eras: from Romanesque, Gothic, Baroque, and Art Nouveau, to more modern sacred architecture.
Tour St. Stephens Cathedral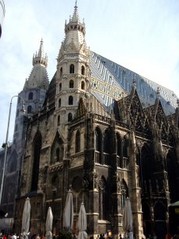 Tours outside and inside of the Cathedral. Duration of the guided tour: approx. 1 1/2 hours. Entrance fees not included.
Guided tours through the churches of the town center

We will visit some medieval churches, the former parish church of the imperial court of the House of Habsburg, as well as St. Stephen's Cathedral (outside). Duration of the guided tour: approx. 1 1/2 to 2 hours.
The following is an overview of some of the churches of Vienna's town center: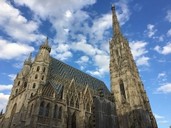 It is the national emblem of Austria and a symbol of Austrian identity. The uniqueness of this cathedral and the countless thousands of details of which it is comprised make St. Stephen's a treasure trove of art history and architecture.
It is one of the most outstanding baroque church structures north of the Alps, and boasts a dome in the form of an elongated ellipsoid. Entrance fees not included.

The oldest church building (of which nothing remains today) dates back to the Early Middle Ages. This church was replaced with a Romanesque church in the beginning of the 18th century.
Die Ruprechtskirche ist die älteste Kirche der Stadt Wien, sie liegt auch in deren ältestem Teil, auf dem Gebiet des römischen Vindobona. Urkundlich erwähnt wurde die Kirche erstmals 1200, sie wurde aber wesentlich früher gegründet.


This church, dedicated to the Archangel Michael, is one of the oldest churches in Vienna, Austria, and also one of its few remaining Romanesque buildings.
The Minoritenkirche (formal name: Greyfriars Church or Minorite Church, formal "Italian National Church of Mary of the Snows") is a church built in French Gothic style. The foundation stone was laid in 1276.
This parish church located on Josefsplatz, next to the Hofburg, the winter palace of the Habsburg dynasty in Vienna. Originally built in the 14th century as the parish church of the imperial court of the Habsburgs, the harmonious Gothic interior was added in the 18th century.
The Jesuit Church, also known as the University Church, is a two-floor, double-tower church influenced by early Baroque principles but remodeled by Andrea Pozzo in 1703-1705.
The Capuchin Church is the church and monastery of the Order of Friars Minor Capuchin, founded in 1617 and dedicated in 1632. Its subterranean mausoleum is the Imperial Crypt that has been the principal place of entombment for the Habsburg dynasty, hereditary Emperors of the Holy Roman Empire, and their descendants.
This church ranks among Vienna's oldest buildings, the gothic church was traditionally used by sailors on the Danube.