Salzburg, Capital of Salzburg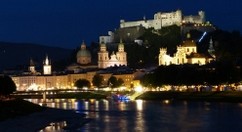 Salzburg certainly owes its world renown to the most famous of its citizens: Wolfgang Amadeus Mozart.
Many important buildings characterize Salzburg; for example the Salzburg Cathedral is considered the first Baroque church north of the Alps.
However, Salzburg is also home to the oldest monastery still in existence today in the German-speaking world, St. Peter's Archabbey. The Nonnberg Abbey in turn became world-famous through the educator Maria Augusta Kutschera, better-known as Maria von Trapp, whose life was the model for the musical "The Sound of Music".
Duration of a trip to Salzburg: approx. 13 hours. The journey between Vienna and Salzburg takes approx. 3 1/2 hours.
Of course you can take trips from Vienna in the provinces.
These last depending on the distance half or full day. For more intensive sightseeing I recommend two days.