Vienna City Walks, Tour Guide Vienna
I offer city walks on a wider variety of topics and to the most diverse places. Everything can be combined, and I can of course organize any guided tour according to your individual wishes. The following is an example as a suggestion (duration approx. 2 hours).
Classic Vienna Town Center Walk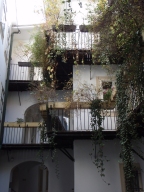 We start at Vienna's St. Stephen's Cathedral; from there we go to the Mozarthaus. Through narrow and not quite as well-known alleys of Vienna, the walk leads to the Imperial Crypt, in which over 140 members of the House of Habsburg are buried.
Past the opera into the
Hofburg Imperial Palace, the former residence of the House of Habsburg, where I will tell you all the interesting facts about the gigantic building, but also about its sometimes somewhat eccentric inhabitants.
Via the Graben with the Pestsäule (plague column) and St. Peter's Church, we return to St. Stephen's Cathedral.
This city walk is without visits inside any of the buildings. These can of course be included; the respective entrance fees are not included in the price.