Books and Articles
About me
Please observe the copyright. Reproduction and publication prohibited in any way whatsoever without the permission of the author and the publisher.
Der Wiener Kongress - Diplomaten, Intrigen und Skandale
---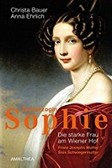 S
ophie
Die starke Frau am Wiener Hof.
Franz Josephs Mutter
Sisis Schwiegermutter
Christa Bauer, Anna Ehrlich


ISBN 978-3-99050-024-8
e
ISBN
978-3-903083-10-3
Once a year, the Viennese tour guides publish the "Kulturmagazin" on the occasion of the world day of tourist guides.
This cultural magazine contains numerous articles dealing with the history of Vienna and Austria.
I am happy to be able to work on this magazine every year and I would like to present you some of my articles published in the Kulturmagazin in PDF format.
1810: Die Hochzeit von Marie Louise und Napoleon